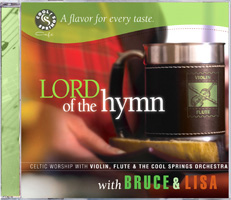 My heart leaps for joy and I will give thanks to Him in song.
~ Psalm 28:7
---

Legendary Producer/Arranger, Don Marsh signs BRUCE & LISA to his new record label, Cool Springs Records and announces their first national release:
Lord of the Hymn
This unique collection of favorite hymns features the virtuoso performances of BRUCE & LISA with the Cool Springs Orchestra. We know you will enjoy the soothing Irish flavor, instruments, and joyous rhythms of Celtic dance played in true worship to our God.
Click on a title below to hear a sample: